Do you find that you always sign off your emails in the same way? Of course, it's often the easiest and fastest option. But after you've put a lot of thought into the main body of the email, it seems a pity to stick with the same old closing phrase every time. If you'd like to add some variety, here are a few ideas.
Regards & Co.
These phrases are very common and you're probably using some of them already. Just pick another for the simplest way to add variety.
Regards
Best regards
Kind regards
Very best regards
Best wishes
All the best
Best
Goodbye
Take care (if you're writing to a closer colleague)
What are the alternatives?
If you're in frequent email contact with someone, you might feel silly writing "Regards" or something very similar for the third time in just one day. Especially here it makes sense to think about an alternative.
Say thank you
If you are writing to ask someone to do something for you (for example, to send you some information), you could simply finish with a thank you:
Thank you for your time.
Thank you so much.
Thanks for your help.
With many thanks
Cheers
(As the last two are not full sentences, you do not need to write a full-stop, just write your name on the next line.)
Or if you're providing information the recipient has asked for:
Hope this helps.
If you need anything else, just let me know.
Look to the future
End on a friendly note by looking forward to future contact:
See you next week.
Speak to you soon.
Looking forward to hearing from you soon.
Looking forward to seeing you next month.
Keep in touch.
Let's stay in touch.
Until next time
Make it personal
Rather than using a standard closing phrase, try to find a personal way to end your email:
Hope you have a relaxing evening.
Enjoy your trip to Rome!
Fingers crossed for the negotiation!
Let's hope the management like our ideas.
Good luck for your presentation tomorrow!
I hope this inspires you to ring the changes!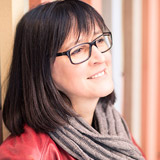 Nicola Bartlett
I've been an English trainer for over 25 years, helping adults to get their message across in English – clearly and appropriately. Successful communication in English requires more than just a good knowledge of the language. An understanding of different mentalities and a feeling for the best approach are vital, too.